Data Center Monitoring starts with Power and Cooling systems.This is the minimum critical infrastructure every Data Center needs to operate without failure and within defined thresholds.It is a necessary condition to keep IT infrastructure safe and in healthy working condition.
Given the importance of Power and Cooling systems in Data Center operations management, GFS Crane DCIM has a dedicated module "Energy & Environment Management". This module provides the information required in Data Center Capacity Planning.
Energy Management includes Data Center Power Management and Fuel Management.
Environment Management includes Data Center Cooling Management and Safety & Security Management.
Energy Management: Data Center Power Management
Live monitoring & Impact Analysis with Power Chain
Power Consumption reports & trend graphs of:

HT/LT Transformers & Switch Gears
Any electrical feeder panel
UPS & Rectifiers
Floor, row & rack PDUs
HVACs & Chillers
Servers
Diesel Generator Sets with Fuel Usage and Output Power Reports
Analysis: Main Power versus Back-up Power

L1, L2 & L3 PUE (Power Usage Effectiveness) Reports
Energy Efficiency improvement recommendations through PUE-based analytics and server utilization versus virtualization status, age and power consumption
Branch circuit monitoring & Power Billing Reports for Colo customers
Daily UPS Input Voltage Trend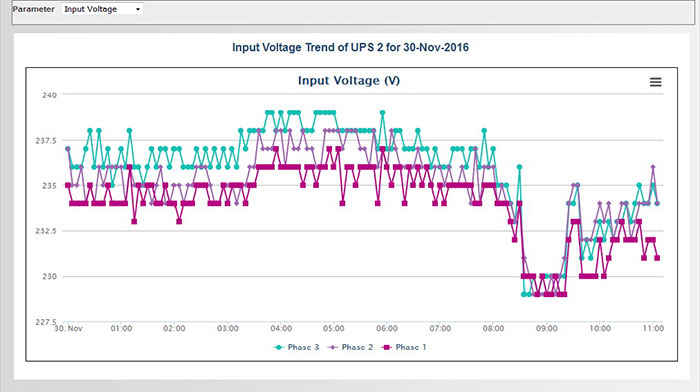 Data Center Power Management is a core DCIM function. Through PUE reports and analytics, GFS Crane DCIM provides energy efficiency recommendations that helps to reduce power and fuel costs in data center operations.
Energy Management: Fuel Management
Fuel Usage Reports including DG Run Hours versus Fuel Consumption
Would You Like to See
GFS Crane in action?
Would You Like to See
GFS Crane in action?
Rack, Row & Room-level temperature, Device-wise Cooling Reports, Air Quality & Sustainability Reports
Return air and supply air temperature of PAC units
Humidity (Room and rack level)
Differential pressure
Air quality (% of H₂, CO₂ and other gases)
Presence of water/moisture
Chilled water or any other liquid temperature, flow rate
Carbon footprint of data center based on power usage and source of power
Temperature Profile for Racks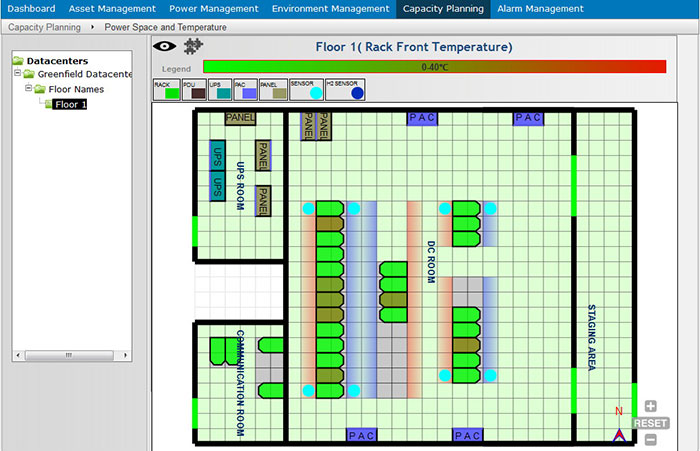 GFS Crane DCIM helps in cooling optimization based on utilization and heat loads of IT devices. Sustainability Reports, correlated with Power consumption data, helps towards the goal of achieving a Greener Data Center
Environment Management: Safety & Security Management
Physical security and secure access control are also important considerations in data center infrastructure management. GFS Crane DCIM monitors and controls for emergency response:
Smoke Detectors and Fire Alarm/Suppression Systems
Access Control Systems
CCTV
Rodent Repellant Systems
Water Leak Detectors